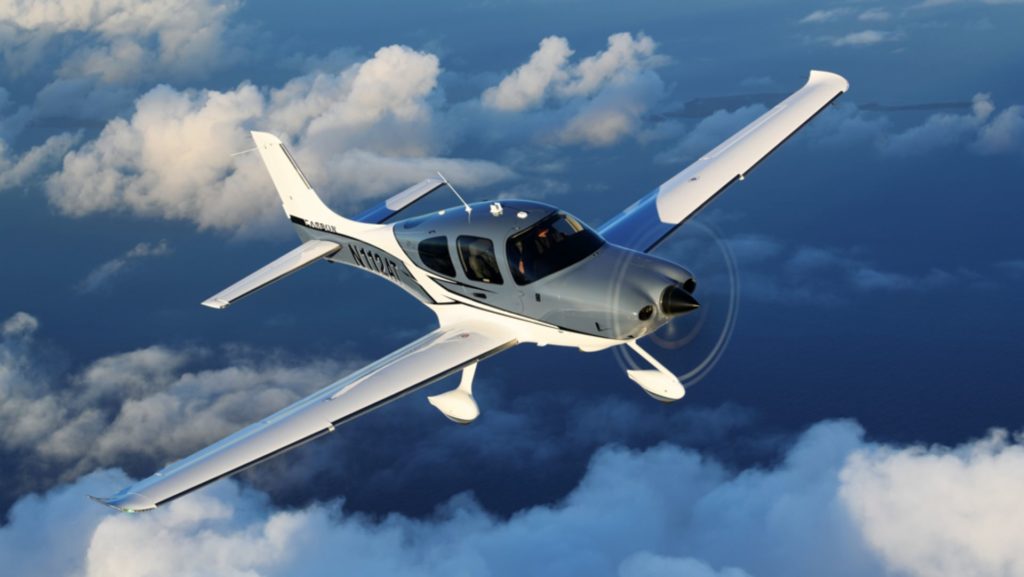 Cirrus SR22 Overview
One aircraft comes to mind when the title Best Selling General Aviation Aircraft is thrown into play. The Cirrus SR22 has constantly taken that title since its inception. When a traveler decides to charter a Cirrus SR22, they come well equipped with the knowledge that this spitfire is a high-performer. The Cirrus SR22 has constantly evolved to not only match, but exceed the growing technological advancements over the last few decades. It was released into the market in 2001 and has consistently impressed customers.
The Cirrus SR22 is a popular training aircraft across Fixed Base Operators and various Universities. The level of safety is unmatched among its competition, highlighted by its Cirrus Airframe Parachute System, more commonly known as CAPS. Parents, passengers, and pilots alike can rest easy knowing this aircraft is meant to get them to the ground safely, regardless of the situation.
The level of safety, price point, and luxury offered draws charter customers into a Cirrus SR22. This four-seater aircraft is perfect for weekend family trips across the state, for the businessman making a quick day trip for meetings, for the executive looking to sneak away for a bit of rest and relaxation. The Cirrus SR22 has been recognized by numerous organizations, receiving awards for its success in the market. A notable award includes the Flieger Award.
Cirrus SR22 Interior
Operation of a Cirrus SR22 requires just a single pilot. The Cirrus SR22 interior is capable of holding 4-5 passengers. The cabin is roughly 4ft wide by 4ft high, and 8ft long. This interior is designed for seated travel to and from business meetings or weekend family getaways. While it's smaller in size, Cirrus has ensured optimal comfort throughout flight time.
The dedicated space for baggage is just over 30 cubic feet, ideal for shorter trips requiring minimal baggage. The maximum payload capability of the Cirrus SR22 is just under 1,000lbs.
Designed for the VIP traveler in mind, the Cirrus SR22 implements advanced technology to ensure comfortable flight. Noise abatement technology ensures the Cirrus SR22 interior feels as welcoming as possible. With enough room to stretch out, travelers will arrive at their destination ready to take on the next meeting or weekend fun.
Cirrus SR22 Performance
The Cirrus SR22 is equipped with a single Continental IO-550-N powerplant with 310 horsepower. This engine is incredibly efficient, bringing in less fuel burn, therefore saving money on operating costs. The Cirrus SR22 has a maximum cruise speed of 186 knots, as well as an economy cruise of about 160 knots.
The Cirrus SR22 range varies depending on the weight on-board. At typical payload conditions, the aircraft can travel just about 660 nautical miles. The absolute maximum distance this private aircraft can fly soars up to 1,100 nautical miles. The Cirrus SR22 range is ideal for a family looking for a quick getaway or a business person on a day trip. Any larger aircraft wouldn't make sense for this customer base, both logistically and economically.
After nearly two decades in the general aviation market, the Cirrus SR22 has been fine tuned to complement all types of travelers. From flight students to the executive traveling across state lines for a quick meeting, this propellor-driven craft brings unmatched efficiency and luxury to its class. Competition falls short time and time again as with each passing year the Cirrus SR22 only gets better.