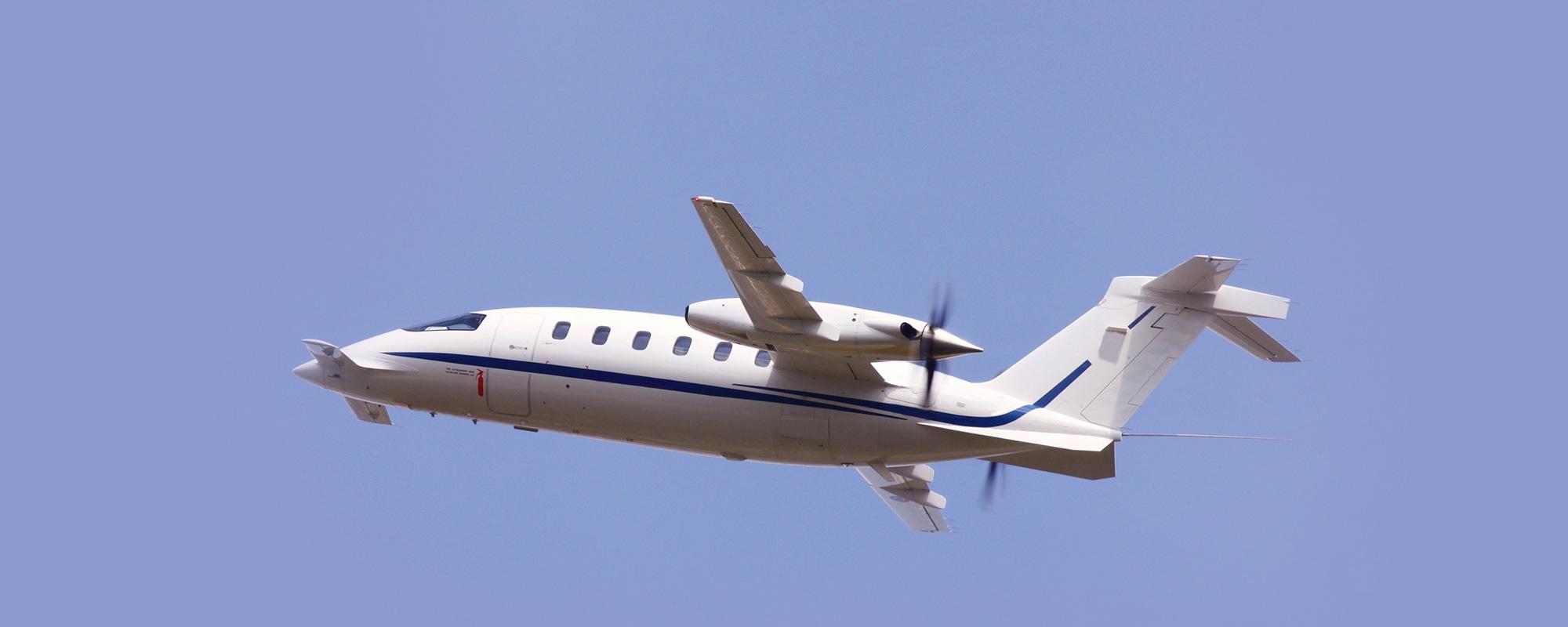 Piaggio Avanti Ownership Overview
Since the 1990s, Piaggio has been crafting the Piaggio Avanti to provide customers with an aircraft unlike any other. This aircraft is fast, extremely fuel efficient, and has reduced noise levels when compared to similar turboprops and corporate jets. Every aspect built into the Piaggio Avanti has a function which propels it towards efficiency, starting with the forward wing all the way to the t-tail. Those looking for a unique aircraft to buy will look towards a Piaggio Avanti for sale.
Piaggio Avanti Cabin Experience
The Piaggio Avanti is capable of transporting a maximum of 6 passengers and 2 crew members. The aircraft includes a lavatory at the end of the 40ft long fuselage inside a cabin that comes in at 15ft long. Additionally, the cabin is 6ft wide and nearly 6ft high, allowing many people the ability to stand up straight, which provides unique comfort.
Total space within the cabin is nearly 400 cubic feet, with each passenger typically allotted just over 40 cubic of space, more than most comparable aircraft. The entry door is nearly 10ft high, and baggage is given 60 cubic feet of space broken up into internal and external compartments.
Piaggio Avanti Mission Profile
Customers who buy a Piaggio Avanti are focused on the modern internal design that provides travelers with ample space to move around and enjoy the trip. It has an impressive range, speed, and reduced fuel prices due to the efficiency of its operation. The Piaggio Avanti also operates with a lower noise footprint and increased safety systems. The innovative maintenance program Piaggio offers also helps drastically reduce the cost for buyers.
Buy or Sell a Piaggio Avanti with evoJets
Are you interested in Piaggio Avanti ownership? evoJets can help. Don't waste hours on public listing engines with outdated photos, vague information, and placeholders for prices.
Our experienced reps can wade through the fragmented Turboprop Sales market and help you buy, sell, trade, or lease your Piaggio Avanti with efficiency. With over a decade of experience in business aviation charter and ownership, we have the off-market aircraft sales connections and industry knowledge to put you on a path to success.
Call evoJets today and speak to an aviation expert: (877) 970-5387.
Piaggio Avanti Cost to Own
Acquisition cost for the Piaggio Avanti falls between $7.3 million and $7.5 million. This price is higher than a range direct competition sets such as the Phenom 100 and King Air 350 for $2.6-$3.1 million. When factoring in market depreciation to the total annual cost, the buyer will be looking at a yearly fee of between $1.3 million-$1.4 million, roughly $300,000-400,000 more than the Phenom 100 and King Air 350, respectively.
Piaggio Avanti Operating Cost
Piaggio Avanti direct operating cost is around $1,400 per flight hour, which focuses on fuel burn, maintenance/crew fees, as well as other variables. This falls on the higher end of the range the rivals set as they'll cost a buyer $1,100-$1,320 per hour. The annual fixed cost for the Piaggio Avanti reaches nearly $400,000, more than twice that of the Phenom 100, but on par with the King Air 350.
Piaggio Avanti Performance Overview
The Piaggio Avanti brings new, unique features to the table when compared to others in its class. The forward wing at the nose of the aircraft, paired with the luxurious Italian interior attracts those looking for something different when it comes to searching for a private aircraft for sale.
Piaggio Avanti Engines
The Piaggio Avanti is equipped with two Pratt & Whitney PT6A-66B powerplants. The Piaggio Avanti has a max cruise speed of over 360kts, in the middle of the road compared to the roughly 320kts fast King Air 350 and 390kts fast Phenom 100.
The aircraft can land and takeoff in the following field lengths:
FAR-91: 2,650ft
FAR-135: 3,313ft
FAR-121: 4,417ft
Piaggio Avanti Payload
Max payload for the Piaggio Avanti is 1,300lbs and can fly at a range of nearly 1,070nm when at full capacity. This is further than both the Phenom 100 which can carry the same payload, and the King Air 350 which has a vastly higher payload capability.
Piaggio Avanti Range
At long-range cruise, the Piaggio Avanti has a range of nearly 1,300nm with a typical passenger load. The Phenom 100 reaches a similar distance while the King Air 350 has a range of roughly 200nm further.
Piaggio Avanti Specifications
Piaggio Avanti General Info
Aircraft Class
Turboprop
Aircraft Manufacturer
Piaggio Aero
Aircraft Year of Manufacture
1986 - Present
Piaggio Avanti Financial Data
Acquisition Cost
$6,660,000 - $8,140,000
Variable Cost
$1,262 - $1,542/hr
Annual Cost
$771,980 - $943,532
Fixed Cost
$38,803 - $349,223
Market Depreciation
$440,000
Retail Charter Rate
$1,300/hr
Average Charter Net
$148/hr
Piaggio Avanti Performance Data
Fuel Burn
130 gal/hr
Max Cruise
360 kts
135 Landing
3,313 ft
135 Takeoff
3,313 ft
91 Landing
2,650 ft
91 Takeoff
2,650 ft
121 Landing
4,417 ft
121 Takeoff
4,417 ft
Max Payload
1,300 lbs
Basic Operating Weight
8,500 lbs
Max Takeoff Weight
12,100 lbs
Piaggio Avanti Cabin Details
Cabin Dimensions
14'7" x 6'1" x 5'8"
Cabin Volume
503
Seat Count
7-8