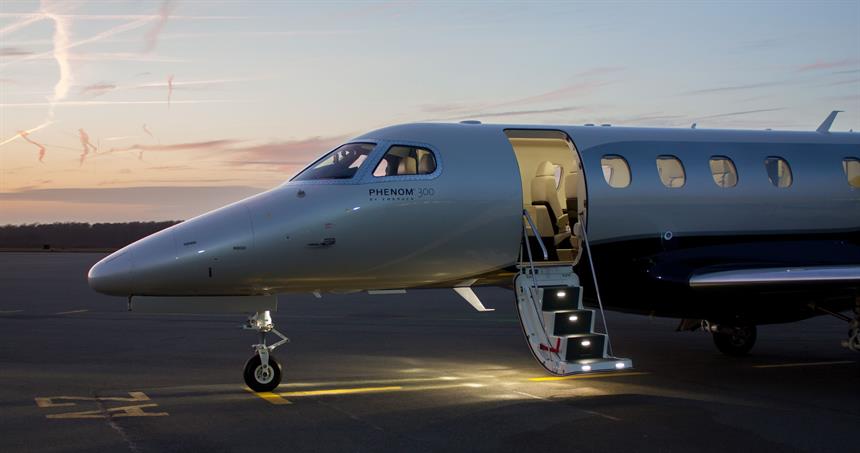 Phenom 300 Ownership Overview
Since 2005, Embraer has been impressing the world with its light business jets. The Embraer Phenom 300 is the most efficient and longest-range single pilot aircraft currently available. For seven years in a row, this aircraft has been the best-selling of its class. Those looking for an aircraft which consistently impresses people globally should search for a Phenom 300 for sale.
Phenom 300 Cabin Experience
The Phenom 300 most comfortably carries 7 passengers and 2 crew members. When operating single-pilot, up 9 passengers may be able to fit. The aircraft includes a lavatory at the aft end of its 50ft long fuselage, inside of its nearly 18ft long cabin.
Total cabin space provided for travelers is nearly 325 cubic feet, almost 200 of that is dedicated to the passenger seating area. Each person typically gets around 28 cubic feet of space. The entry door into the aircraft is over 10ft tall, and the cabin width and height are around 5ft. Baggage is allotted 85 cubic feet of space broken up into internal and external storage areas.
Phenom 300 Mission Profile
Customers who buy a Phenom 300 are those focused on a top performing aircraft, year after year. This aircraft is fast, luxurious, and powerful. The t-tail provides additional stabilization felt within the cabin, along with a reduced noise atmosphere. The generous cabin space and tables which pull out from the walls appeal to the business type travelers, as it makes meetings and presentations easy.
Buy or Sell a Phenom 300 with evoJets
Are you interested in Phenom 300 ownership? evoJets can help. Don't waste hours on public listing engines with outdated photos, vague information, and placeholders for prices.
Our experienced reps can wade through the fragmented Light Jet Sales market and help you buy, sell, trade, or lease your Phenom 300 with efficiency. With over a decade of experience in business aviation charter and ownership, we have the off-market aircraft sales connections and industry knowledge to put you on a path to success.
Call evoJets today and speak to an aviation expert: (877) 970-5387.
Phenom 300 Cost to Own
Acquisition cost for the Phenom 300 typically ranges from $8.2 million to $8.4 million. It's high price point is a nod to the upscale features it provides travelers with. Direct competition for this jet is the Citation CJ4 and the Lear 75, which have an acquisition cost range of $9.0-$14.0 million, respectively.  When factoring in market depreciation, the total annual cost ranges from $1.7 million to $1.8 million, similar to that of the CJ4 and less than the Lear 75.
Phenom 300 Operating Cost
Phenom 300 direct operating cost is around $1,700 per hour which includes aspects such as fuel burn, maintenance, and other factors, once again similar to the Citation and less than the Lear by around $300. The annual fixed cost for the Phenom 300 is roughly $400,000-$450,000, a range the CJ4 falls into, but significantly less than the Lear 75 which has a fixed cost of around $520,000.
Phenom 300 Performance Overview
The Phenom 300 is an international best seller for a reason- the aircraft is highly modern with its sleek interior and exterior design, it's the most efficient light jet that can operate with a single pilot, and in the same regard it is able to fly the furthest distance when compared to others in its class. Flyers looking for aircraft for sale which are consistently ranked in the top spot of private jets will look towards the Phenom 300 and not be disappointed.
Phenom 300 Engines
The Phenom 300 is equipped with two Pratt & Whitney Canada PW535E powerplants with the thrust capability of 3,360lbs. The Phenom 300 has a max cruise speed of nearly 445kts, only slightly slower than its two rivals.
The aircraft can land and takeoff in the following field lengths:
FAR-91: 2,229ft
FAR-135: 2,786ft
FAR-121: 3,700ft
Phenom 300 Payload
Max payload for the Phenom 300 is just over 2,215lbs and can operate with that weight to nearly 1,470nm. The competition both carry less of a payload for slightly longer of a distance.
Phenom 300 Range
At long-range cruise, the Phenom 300 has a range of nearly 2,000nm with a typical passenger load, similar to that of the CJ4, while flying roughly 100nm more than the Lear 75.
Phenom 300 Specifications
Phenom 300 General Info
Aircraft Class
Light Jet
Aircraft Manufacturer
Embraer
Aircraft Year of Manufacture
2009 - Present
Phenom 300 Financial Data
Acquisition Cost
$7,470,000 - $9,130,000
Variable Cost
$1,497 - $1,829/hr
Annual Cost
$1,041,541 - $1,272,995
Fixed Cost
$42,882 - $385,936
Market Depreciation
$560,000
Retail Charter Rate
$2,150/hr
Average Charter Net
$737/hr
Phenom 300 Performance Data
Fuel Burn
180 gal/hr
Max Cruise
440 kts
135 Landing
2,786 ft
135 Takeoff
2,786 ft
91 Landing
2,229 ft
91 Takeoff
2,229 ft
121 Landing
3,700 ft
121 Takeoff
3,700 ft
Max Payload
2,216 lbs
Basic Operating Weight
11,783 lbs
Max Takeoff Weight
18,000 lbs
Phenom 300 Cabin Details
Cabin Dimensions
17'2" x 5'1" x 4'11"
Cabin Volume
429
Seat Count
6-8