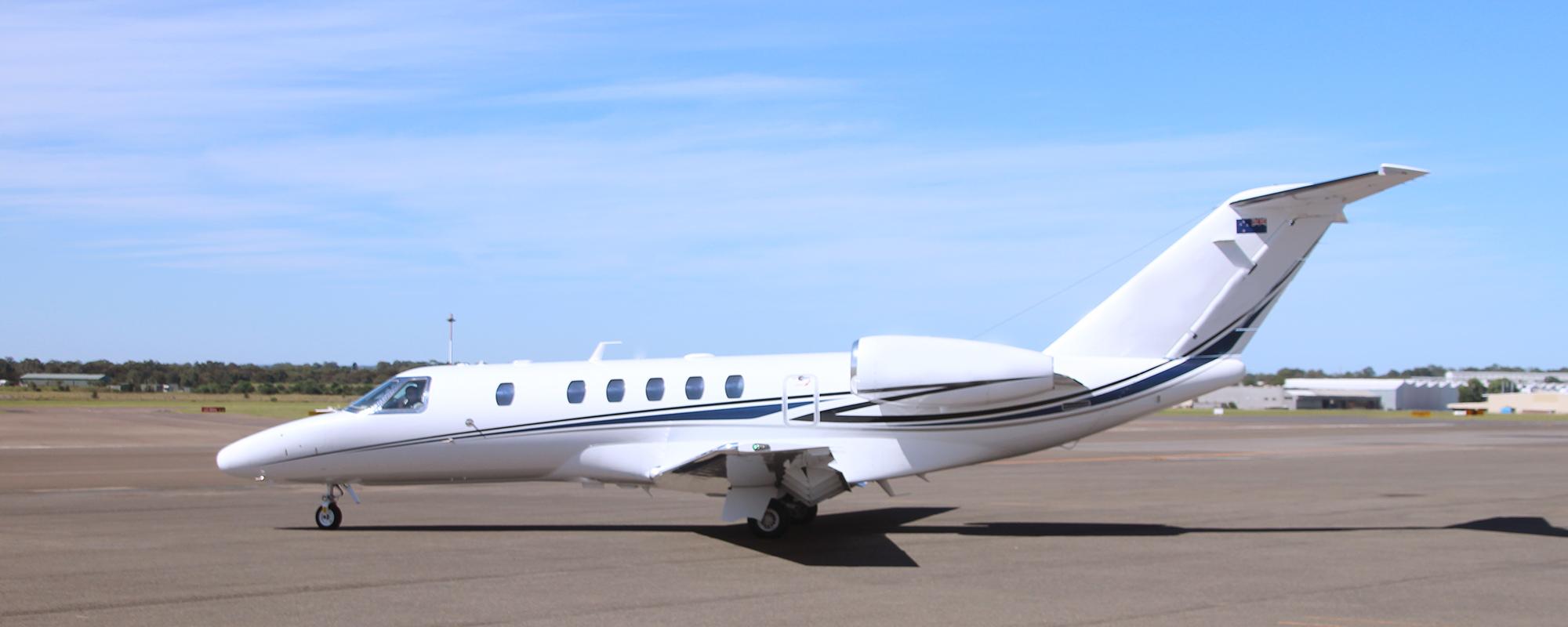 Citation CJ4 Ownership Overview
With over 2,000 of the Cessna CitationJets built, customers don't have a hard time finding a Citation CJ4 for sale. This twin engine carries out the family's historic assurance of reliability and dependability without sacrificing ideal amenities.
Citation CJ4 Cabin Experience
The Citation CJ4 is capable of transporting 7 passengers and 2 crew members. The aircraft has a cabin length of 17ft, an a fuselage of 53ft. The Citation CJ4 has a cabin interior such that it carries on the family's well known luxurious experience which aids in customer comfort throughout any flight.
Total cabin space is just over 290 cubic feet, allowing for a width and height of nearly 5ft both ways. The entry door is a solid 4ft tall, and baggage is allotted more than 75 cubic feet of space, with the majority located in an external compartment.
Citation CJ4 Mission Profile
Customers who buy a Citation CJ4 are those focusing on the upgraded experience from its predecessors, as most importantly the cockpit has an improved display which reduces pilot workload. This eases passengers minds knowing this business jet is a safe one.
The Citation CJ4 is also more-so environmentally friendly with the improved engines it operates by. This aircraft provides more range than competition, faster cruise rates, all the while improving the cabin experience for those on-board.
Buy or Sell a Citation CJ4 with evoJets
Are you interested in Citation CJ4 ownership? evoJets can help. Don't waste hours on public listing engines with outdated photos, vague information, and placeholders for prices.
Our experienced reps can wade through the fragmented Light Jet Sales market and help you buy, sell, trade, or lease your Citation CJ4 with efficiency. With over a decade of experience in business aviation charter and ownership, we have the off-market aircraft sales connections and industry knowledge to put you on a path to success.
Call evoJets today and speak to an aviation expert: (877) 970-5387.
Citation CJ4 Cost to Own
Acquisition cost for the Citation CJ4 typically ranges from $9.0-$9.2 million, slightly higher than a competitor such as the Phenom 300, but roughly $4 million less than another competitor such as the Lear 75. When factoring in market depreciation, the Citation CJ4 falls in between its competition at around $1.7-$1.9 million, annually.
Citation CJ4 Operating Cost
Citation CJ4 direct operating cost is around $1,700 per flight hour, more than the Phenom 300 which operates at $1,660 per hour, whereas the Lear 75 costs a buyer more at around $2,020. These rates include fuel burn and various maintenance, crew, and operating fees.
Annual fixed cost for the Citation CJ4 is roughly the same at the Phenom 300, but $90,000 less than that of the Lear 75, at around $428,000.
Citation CJ4 Performance Overview
The CitationJet family is a bestseller for many reasons, and the Citation CJ4 is no exception. It provides passengers with a dependable and reliable experience, without sacrificing cabin space or efficient performance. Those looking into private jets for sale will find this one to be a vast improvement of its predecessors, without leaving the light jet market.
Citation CJ4 Engines
The Citation CJ4 is equipped with two Williams FJ44-4A engines, which provide more than 3,620lbs of thrust. The Citation CJ4 has a max cruise speed of nearly 455kts, 10kts faster than the Phenom 300 and 10kts slower than the Lear 75.
The aircraft can land and takeoff in the following field lengths:
FAR-91: 2,387ft
FAR-135: 2,984ft
FAR-121: 3,978ft
Citation CJ4 Payload
Max payload for the Citation CJ4 is 2,150lbs, and it can transport that capacity 1,600nm. The Lear 75 falls short in payload but exceeds in range while the Phenom 300 outperforms in payload but falls short in range.
Citation CJ4 Range
At long-range cruise, the Citation CJ4 has a range of more than 2,020nm, further than both its competitors which can operate distances of 1,900nm-1,975nm.
Citation CJ4 Specifications
Citation CJ4 General Info
Aircraft Class
Light Jet
Aircraft Manufacturer
Cessna
Aircraft Year of Manufacture
2010 - Present
Citation CJ4 Financial Data
Acquisition Cost
$8,275,500 - $10,114,500
Variable Cost
$1,537 - $1,879/hr
Annual Cost
$1,043,754 - $1,275,700
Fixed Cost
$42,876 - $385,880
Market Depreciation
$630,000
Retail Charter Rate
$2,400/hr
Average Charter Net
$892/hr
Citation CJ4 Performance Data
Fuel Burn
210 gal/hr
Max Cruise
450 kts
135 Landing
2,984 ft
135 Takeoff
2,984 ft
91 Landing
2,387 ft
91 Takeoff
2,387 ft
121 Landing
3,978 ft
121 Takeoff
3,978 ft
Max Payload
2,150 lbs
Basic Operating Weight
10,350 lbs
Max Takeoff Weight
17,100 lbs
Citation CJ4 Cabin Details
Cabin Dimensions
17'4" x 4'10" x 4'9"
Cabin Volume
398
Seat Count
6-8