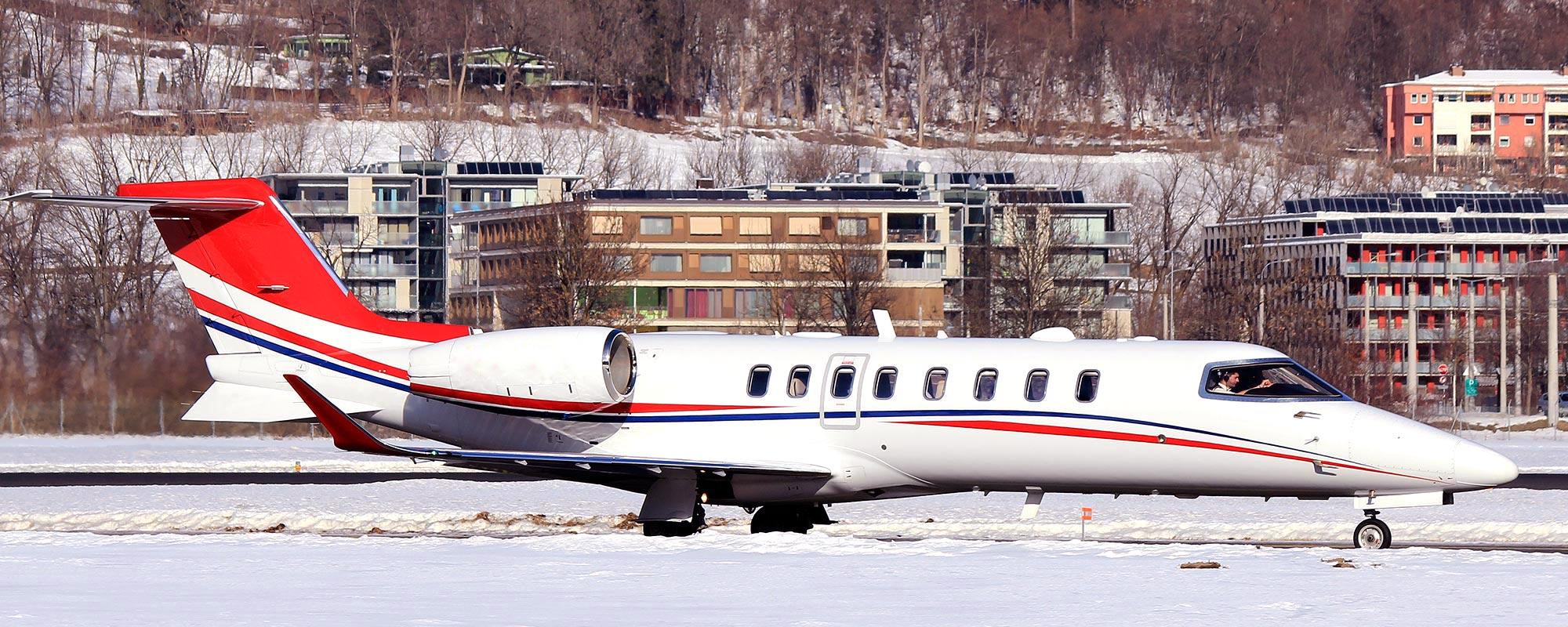 Lear 75 Ownership Overview
The Learjet 75 is an upgraded version of the Learjet 45. It is one of the highest rated aircraft of the family, as it showcases the classic layout of the Learjet, but with modifications across all fronts to bring it into the modern-day. In the two decades the Learjet family has been certified, over 3,000 have been delivered, so customers will not have a difficult time finding a Lear 75 for sale.
Lear 75 Cabin Experience
The Lear 75 is capable of transporting a maximum of 8 passengers and 2 crew members. The aircraft includes a lavatory at the back end of its nearly 60ft long fuselage, inside its nearly 20ft long cabin. The rounded sides of the fuselage allows passengers more shoulder space, increasing comfort levels.
Total cabin space is 415 cubic feet, allowing each person just over 35 cubic feet of space, typically. The width of the cabin is just over 5ft, and the height is just below 5ft. The entry door into the aircraft is less than 5ft and baggage is designated 65 cubic feet of space broken up into internal and external compartments, with the external unit taking on most of it.
Lear 75 Mission Profile
Customers who buy a Lear 75 are focused more on the shorter trips which don't leave their home country, and the more economical conscious buyer. This aircraft is one of the most relied-upon for Fortune 50 and 500 businesses, as it provides those on board with a smooth ride due to the quality of the wing design.
The Lear 75 also provides top of the line noise dampening solutions such as a forward pocket door which creates the quietest atmosphere of any aircraft in the category, all the while increasing the level of privacy for customers.
This aircraft has also enhanced its speed and fuel efficiency so passengers can make it to further destinations without digging deep in their pockets to cover astronomical fuel fees. The Lear 75 is so popular and reliable that it's still in production today.
Buy or Sell a Lear 75 with evoJets
Are you interested in Lear 75 ownership? evoJets can help. Don't waste hours on public listing engines with outdated photos, vague information, and placeholders for prices.
Our experienced reps can wade through the fragmented Light Jet Sales market and help you buy, sell, trade, or lease your Lear 75 with efficiency. With over a decade of experience in business aviation charter and ownership, we have the off-market aircraft sales connections and industry knowledge to put you on a path to success.
Call evoJets today and speak to an aviation expert: (877) 970-5387.
Lear 75 Cost to Own
Acquisition cost for the Lear 75 typically ranges between $13.7-$13.9 million, higher than key competitors such as the Citation CJ4 and Phenom 300. When factoring in market depreciation to total annual cost, the Lear 75 will cost buyers roughly $2.3 million, once again the highest of its competition.
Lear 75 Operating Cost
Lear 75 direct operating cost is around $2,000 per flight hour, $300-$400 higher than the CJ4 and Phenom 300, respectively. Annual fixed cost for the Lear 75 is nearly $520,000, around $90,000 higher than its competitors.
Lear 75 Performance Overview
While the Lear 75 is more expensive than its two key competitors, it's faster and can fly further, all the while boasting a much larger cabin interior. Flyers looking into aircraft for sale who want those three main qualities will bear the extra cost for the increased level of travel quality.
Lear 75 Engines
The Lear 75 is equipped with two Honeywell TFE 731-40BR engines with standard thrust reversers and thrust of more than 3,800lbs. The Lear 75 has a max cruise speed of 465kts, faster than both the CJ4 and Phenom 300.
The aircraft can land and takeoff in the following field lengths:
FAR-91: 2,350ft
FAR-135: 2,938ft
FAR-121: 3,917ft
Lear 75 Payload
Max payload for the Lear 75 is over 2,100lbs, slightly under its competitors. While carrying that capacity, the Lear 75 can travel nearly 1,730nm, well above the range set by the CJ4 and Phenom 300.
Lear 75 Range
At long-range cruise, the Lear 75 has a range of nearly 1,900nm, only 100nm less than its competition.
Lear 75 Specifications
Lear 75 General Info
Aircraft Class
Light Jet
Aircraft Manufacturer
Bombardier Aerospace
Aircraft Year of Manufacture
2013 - Present
Lear 75 Financial Data
Acquisition Cost
$12,420,000 - $15,180,000
Variable Cost
$1,816 - $2,220/hr
Annual Cost
$1,216,390 - $1,486,698
Fixed Cost
$51,809 - $466,279
Market Depreciation
$940,000
Retail Charter Rate
$2,600/hr
Average Charter Net
$782/hr
Lear 75 Performance Data
Fuel Burn
200 gal/hr
Max Cruise
470 kts
135 Landing
2,938 ft
135 Takeoff
2,938 ft
91 Landing
2,350 ft
91 Takeoff
2,350 ft
121 Landing
3,917 ft
121 Takeoff
3,917 ft
Max Payload
2,110 lbs
Basic Operating Weight
13,890 lbs
Max Takeoff Weight
21,500 lbs
Lear 75 Cabin Details
Cabin Dimensions
19'9" x 5'1" x 4'1"
Cabin Volume
410
Seat Count
6-8