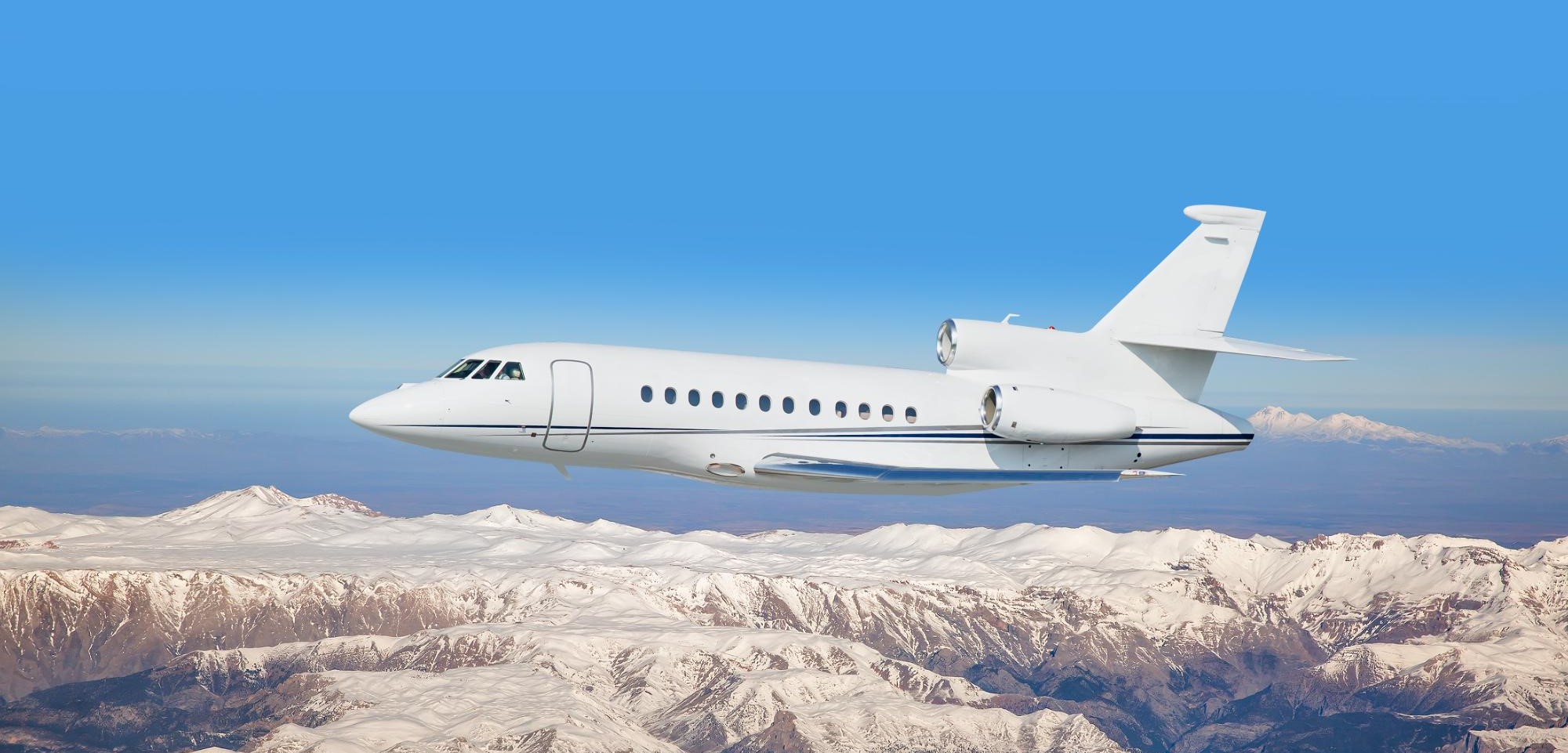 Falcon 900EX Ownership Overview
Buyers who find a Falcon 900EX for sale are those looking in the heavy jet market for the best of the best. This tri-engine private aircraft is innovative and luxurious, catering to the needs of executives in-flight.
Falcon 900EX Cabin Experience
The Falcon 900EX is capable of transporting a maximum of 12 passengers and 2 crew members. The aircraft includes a luxurious lavatory at the end of the more than 30ft long cabin, inside the more than 65ft long fuselage. The height of the cabin is more than 6ft, which is accommodating to a multitude of people, and the width is just under 8ft, giving passengers ample room to maneuver throughout.
Total cabin space amounts to 1,270 cubic feet, allowing for each passenger to typically have more than 75 cubic feet of space, an immense amount numerous competitors can't come close to. The entry door is close to 6ft tall and baggage is allotted nearly 130 cubic feet of space, all inside the jet.
Falcon 900EX Mission Profile
Customers who buy a Falcon 900EX are those looking for top-quality luxury and room paired with extremely long ranges. The material which constructs the frame of the aircraft is very light, but also very durable. It's made to take a beating and not risk the safety of the passengers.
This heavy private jet goes above and beyond expectation. It's spacious cabin, three engines, and extended range will provide the best for customers, get them where they need to go, without wasting time or money. One of the many added benefits that aids in passenger opinion is the ability to access luggage at all times. This seemingly small feature helps those on-board feel at home.
Buy or Sell a Falcon 900EX with evoJets
Are you interested in Falcon 900EX ownership? evoJets can help. Don't waste hours on public listing engines with outdated photos, vague information, and placeholders for prices.
Our experienced reps can wade through the fragmented Heavy Jet Sales market and help you buy, sell, trade, or lease your Falcon 900EX with efficiency. With over a decade of experience in business aviation charter and ownership, we have the off-market aircraft sales connections and industry knowledge to put you on a path to success.
Call evoJets today and speak to an aviation expert: (877) 970-5387.
Falcon 900EX Cost to Own
Acquisition cost for the Falcon 900EX typically ranges from $8.8-$9.0 million, significantly lower than that of competitors such as the Legacy 600 ($13-$14 million) and the Gulfstream G-450 ($23-$25 million). When factoring in market depreciation, the Falcon 900EX once again comes in as the cheapest annual cost between $3-$4 million.
Falcon 900EX Operating Cost
Falcon 900EX direct operating cost is around $3,700 per flight hour, slightly higher than that of the Legacy 600, but less than the G-450. This rate includes fuel burn and various maintenance, crew, and operating fees. Annual fixed cost for the Falcon 900EX Falls between $950,000-$952,000, on par with the results of the hourly rate.
Falcon 900EX Performance Overview
The Falcon 900EX is an ideal aircraft for numerous reasons. The innovative engine setup provides added range which allows passengers to go further without digging deeper into their pockets. Additionally the added space in the cabin will make a large group feel at home, nowhere near claustrophobic. Flyers looking into aircraft for sale will see this one as a step above the others in the heavy jet class.
Falcon 900EX Engines
The Falcon 900EX is equipped with three Honeywell TFE 731-60 engines with standard thrust reversers and 5,000lbs of thrust. The Falcon 900EX has a max cruise speed of more than 480kts, faster than the Legacy 600 by roughly 30kts, but lower than the G-450 by around 20kts.
The aircraft can land and takeoff in the following field lengths:
FAR-91: 2,250ft
FAR-135: 3,813ft
FAR-121: 3,750ft
Falcon 900EX Payload
Max payload for the Falcon 900EX is over 6,160lbs, and it has the ability to transport that capacity nearly 3,850nm. Both rival aircraft carry less weight and fly shorter distances.
Falcon 900EX Range
At long-range cruise, the Falcon 900EX has a range of 4,630nm with a typical passenger load, once again surpassing its competition.
Falcon 900EX Specifications
Falcon 900EX General Info
Aircraft Class
Heavy Jet
Aircraft Manufacturer
Dassault Aviation
Aircraft Year of Manufacture
1998 - 2010
Falcon 900EX Financial Data
Acquisition Cost
$8,010,000 - $9,790,000
Variable Cost
$3,326 - $4,066/hr
Annual Cost
$2,262,456 - $2,765,224
Fixed Cost
$95,048 - $855,429
Market Depreciation
$610,000
Retail Charter Rate
$5,500/hr
Average Charter Net
$2,304/hr
Falcon 900EX Performance Data
Fuel Burn
310 gal/hr
Max Cruise
480 kts
135 Landing
2,813 ft
135 Takeoff
2,813 ft
91 Landing
2,250 ft
91 Takeoff
2,250 ft
121 Landing
3,750 ft
121 Takeoff
3,750 ft
Max Payload
6,164 lbs
Basic Operating Weight
24,700 lbs
Max Takeoff Weight
48,300 lbs
Falcon 900EX Cabin Details
Cabin Dimensions
33'2" x 7'7" x 6'2"
Cabin Volume
1551
Seat Count
12-18