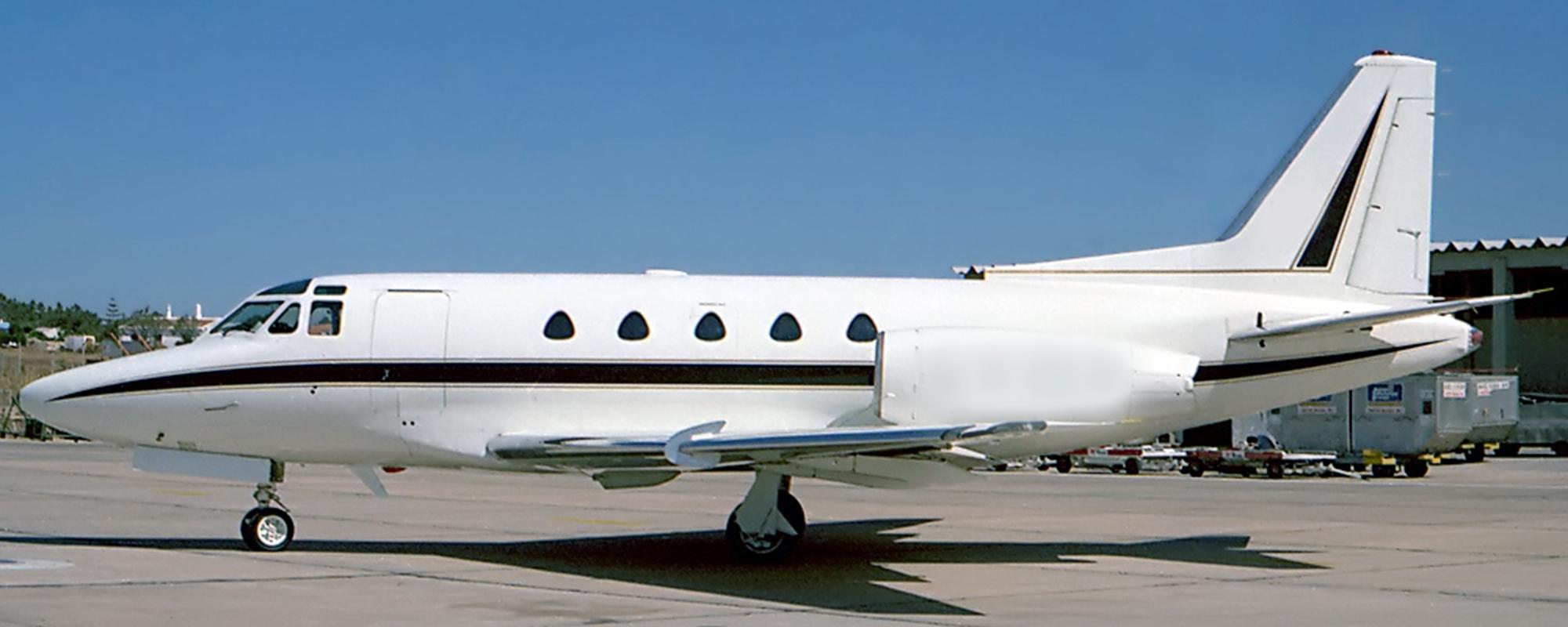 Sabreliner 65 Ownership Overview
Since the late 1960s, buyers have seen the Sabreliner 65 for sale. Originally marketed as a military aircraft, Sabre produced the first civilian version in the form of the Series 40, but shortly after, a North American version was produced which was elongated and named the Series 60 family, which is where the mid-sized business jet Sabre 65 is derived from. The Sabre 65 has the distinction of its supercritical wing, the first of all civilian aircraft.
Sabreliner 65 Cabin Experience
The Sabreliner 65 is capable of transporting a maximum of 6 passengers and 2 crew members. The aircraft is just over 50ft long and has a wingspan of nearly the same. The cabin is a solid 19ft long, just over 5ft wide, and over 4ft tall.
Total cabin space for passengers is over 190 cubic feet, with 150 cubic feet extra for other spaces such as the lavatory and galley. Each passenger is typically given more than 30 cubic feet of space. Baggage is allowed nearly 45 cubic feet of space, and the main entry door is just under 10ft tall.
Sabreliner 65 Mission Profile
Customers who buy a Sabreliner 65 are focused on getting to their destination fast. With the enhanced wing shape and ability, this aircraft doesn't mess around. With its roots set in the military sector, it's meant to outperform others. Of the time it was produced, it's engines and efficient wings labeled it as the longest range aircraft of its class. Less than 100 of the Sabreliner 65s were built.
Buy or Sell a Sabreliner 65 with evoJets
Are you interested in Sabreliner 65 ownership? evoJets can help. Don't waste hours on public listing engines with outdated photos, vague information, and placeholders for prices.
Our experienced reps can wade through the fragmented Midsize Jet Sales market and help you buy, sell, trade, or lease your Sabreliner 65 with efficiency. With over a decade of experience in business aviation charter and ownership, we have the off-market aircraft sales connections and industry knowledge to put you on a path to success.
Call evoJets today and speak to an aviation expert: (877) 970-5387.
Sabreliner 65 Cost to Own
Acquisition cost for the Sabreliner 65 typically ranges from $350,000-$450,000. The acquisition cost is slightly lower than that of a competitor such as the Falcon 20 and much cheaper than that of the Astra SP, which costs between $1.2-$1.4 million to acquire. When factoring in market depreciation, the aircraft will cost a buyer between $1.6 million and $1.7 million, annually, between that of its competitors which range from $1.55-$1.65 for the Astra SP and $2.1-$2.2 million for the Falcon 20.
Sabreliner 65 Operating Cost
Sabreliner 65 direct operating cost is around $2,600 per flight hour. This price includes items such as fuel burn, maintenance, and a variety of others. The Astra SP will cost a buyer typically $2,300 per flight hour, while the Falcon 20 will operate for around $3,500.
Annual fixed cost for the Sabreliner 65 falls roughly between $500,000-$505,000, more than $30,000 less than its competition.
Sabreliner 65 Performance Overview
This aircraft flies longer and further than its predecessors, and it's no wonder its speed is a major selling point for those looking into aircraft for sale. This twin-engine mid-sized business jet appeals to those on tight schedules, who don't want the flight to lack in quality. The Sabreliner 65 ensures both wishes are fulfilled as it has been a sturdy, reliable aircraft for decades.
Sabreliner 65 Engines
The Sabreliner 65 is equipped with two Honeywell TFE 731-3R-1D engines with thrust capability of 3,700lbs and standard thrust reversers. The Sabreliner 65 has a max cruise speed of 465kts, which will ensure travelers get to their destinations on time, parallel to that of its two direct rivals. The aircraft takes about 25 minutes to reach its cruising altitude.
The aircraft can land and takeoff in the following field lengths:
FAR-91: 2,400ft
FAR-135: 3,000ft
FAR-121: 4,000ft
Sabreliner 65 Payload
Max payload for the Sabreliner 65 is 2,150lbs and with said payload, can reach nearly 2,100nm. This private jet can carry more than the Falcon 20 for a longer distance, but falls short on both fronts when compared to the Astra SP.
Sabreliner 65 Range
At long-range cruise, the Sabreliner 65 has a range of 2,350nm with a typical passenger load. This falls in between the range set by the Falcon and Astra of roughly 1,445nm-2,640nm, respectively.
Sabreliner 65 Specifications
Sabreliner 65 General Info
Aircraft Class
Midsize Jet
Aircraft Manufacturer
North American Aviation/ Rockwell International
Aircraft Year of Manufacture
1982 - 1990
Sabreliner 65 Financial Data
Acquisition Cost
$360,000 - $440,000
Variable Cost
$2,302 - $2,814/hr
Annual Cost
$1,446,140 - $1,767,504
Fixed Cost
$50,161 - $451,447
Market Depreciation
$27,000
Retail Charter Rate
$2,750/hr
Average Charter Net
$492/hr
Sabreliner 65 Performance Data
Fuel Burn
260 gal/hr
Max Cruise
470 kts
135 Landing
3,000 ft
135 Takeoff
3,000 ft
91 Landing
2,400 ft
91 Takeoff
2,400 ft
121 Landing
4,000 ft
121 Takeoff
4,000 ft
Max Payload
2,150 lbs
Basic Operating Weight
14,100 lbs
Max Takeoff Weight
24,000 lbs
Sabreliner 65 Cabin Details
Cabin Dimensions
19' x 5'3" x 4'6"
Cabin Volume
449
Seat Count
6-8