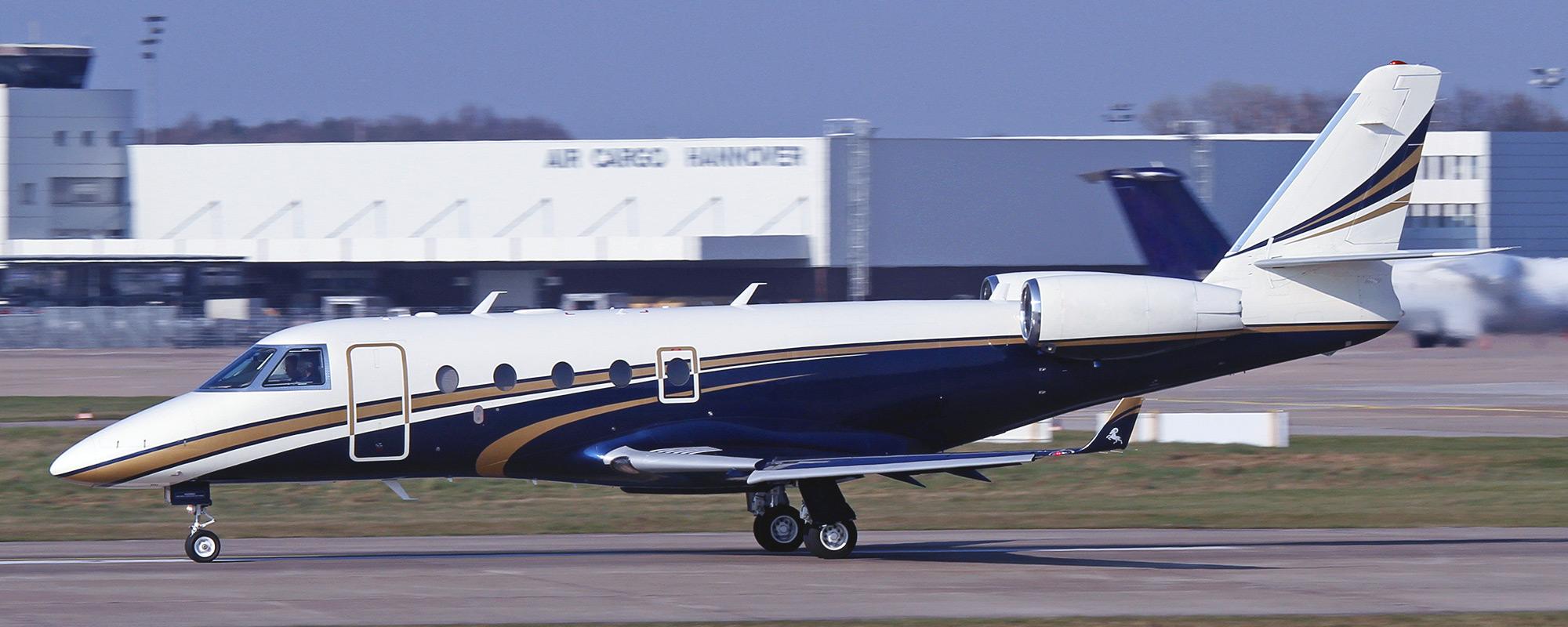 Gulfstream G-150 Ownership Overview
Since 2006, over 120 Gulfstream G-150s have entered service. The company has shifted focus to production of the G280, however, the G-150 still has much to offer buyers. Those who find a Gulfstream G-150 for sale will appreciate it for its versatile use and larger cabin with upgraded avionics compared to its predecessors.
Gulfstream G-150 Cabin Experience
The Gulfstream G-150 is capable of transporting a maximum of 7 passengers and 2 crew members, as it's one of the smallest business jets Gulfstream has to offer. The jet has a cabin that's just under 20ft long, inside a fuselage that's over 55ft long. The cabin is just under 6ft in both height and width, with an entry door that's just over 4ft.
Total cabin space is just over 520 cubic feet, with 330 of that dedicated to the passenger seating area. Its smaller size doesn't take away from passenger experience, however, as typically each traveler will have just under 50 cubic feet of space to themselves. Baggage is allocated 80 cubic feet of space, the majority of it located in an external compartment.
Gulfstream G-150 Mission Profile
This aircraft is the most popular of its manufacturing line, as if has had more produced than the predecessors added together. Its popularity translates well into the sale of the jet as customers who buy a Gulfstream G-150 are enamored with what it has to offer, at its price range, with its capabilities. The Gulfstream G-150 is used across the world in military VIP transportation, which proves its luxury and safety. Those traveling in smaller groups in transcontinental routes will find this aircraft to be the best bang for their buck.
Buy or Sell a Gulfstream G-150 with evoJets
Are you interested in Gulfstream G-150 ownership? evoJets can help. Don't waste hours on public listing engines with outdated photos, vague information, and placeholders for prices.
Our experienced reps can wade through the fragmented Midsize Jet Sales market and help you buy, sell, trade, or lease your Gulfstream G-150 with efficiency. With over a decade of experience in business aviation charter and ownership, we have the off-market aircraft sales connections and industry knowledge to put you on a path to success.
Call evoJets today and speak to an aviation expert: (877) 970-5387.
Gulfstream G-150 Cost to Own
Acquisition cost for the Gulfstream G-150 typically ranges between $9-$12 million, significantly higher than that of its direct competition such as the Learjet 60 ($2-$3 million) and the Hawker 800 ($1 million). When factoring in market depreciation, the Gulfstream G-150 has the highest annual cost of $2.2-$2.3 million.
Gulfstream G-150 Operating Cost
Gulfstream G-150 direct operating cost is around $2,200-$2,300 per flight hour, cheaper than that of its competition. This rate includes fuel burn and various maintenance, crew, and operating fees. Annual fixed cost for the Gulfstream G-150 is the highest of the competition at $540,000-$542,000.
Gulfstream G-150 Performance Overview
The Gulfstream G-150 is a quality midsize jet for a reason. Its improved engines offer increased fuel efficiency, while its cabin space is ideal for smaller groups traveling shorter distances. Buyers looking into aircraft for sale will be drawn to this luxurious jet.
Gulfstream G-150 Engines
The Gulfstream G-150 is equipped with two Honeywell TFE 731-40AR engines with standard thrust reversers and 4,420lbs of thrust. The Gulfstream G-150 has a max cruise speed of 470kts, which is the fastest of its two competitors.
The aircraft can land and takeoff in the following fields:
FAR-91: 2,430ft
FAR-135: 3,038ft
FAR-121: 4,050ft
Gulfstream G-150 Payload
Max payload for the Gulfstream G-150 is 2,400lbs and it has the ability to transport that capacity nearly 2,520nm. This is faster and further than that of both the Lear 60 and Hawker 800.
Gulfstream G-150 Range
At long-range cruise, the Gulfstream G-150 has a range of roughly 3,020nm with a typical passenger load. The Hawker 800 can fly nearly 2,500nm while the Lear 60 makes it a distance of 2,130nm.
Gulfstream G-150 Specifications
Gulfstream G-150 General Info
Aircraft Class
Midsize Jet
Aircraft Manufacturer
Israel Aircraft Industries (IAI)
Aircraft Year of Manufacture
2002 - 2017
Gulfstream G-150 Financial Data
Acquisition Cost
$9,270,000 - $11,330,000
Variable Cost
$2,038 - $2,490/hr
Annual Cost
$1,368,961 - $1,673,175
Fixed Cost
$54,067 - $486,601
Market Depreciation
$700,000
Retail Charter Rate
$2,800/hr
Average Charter Net
$836/hr
Gulfstream G-150 Performance Data
Fuel Burn
230 gal/hr
Max Cruise
470 kts
135 Landing
3,038 ft
135 Takeoff
3,038 ft
91 Landing
2,430 ft
91 Takeoff
2,430 ft
121 Landing
4,050 ft
121 Takeoff
4,050 ft
Max Payload
2,400 lbs
Basic Operating Weight
15,100 lbs
Max Takeoff Weight
26,100 lbs
Gulfstream G-150 Cabin Details
Cabin Dimensions
17'8" x 5'9" x 5'9"
Cabin Volume
584
Seat Count
6-8