Business Airliner
Business airliners are typically airline-type aircraft which are outfitted for personal or business use. They are larger than heavy jets, comparable in size to commercial airliner aircraft, but with different interior configurations. Most of these aircraft can accommodate anywhere from 28 to 120 passengers, or heavy loads of cargo. They are best suited for medium to long-range flights. These aircraft offer travelers pressurized passenger cabins which may be configured in a variety of ways, sometimes featuring multiple berth and lavatories, a gym, shower, meeting room, and more. The cabins of business airliners can also be laid out to maximize passenger capacity, with a layout more like a commercial airliner.
Click here to check out the other private jet types.
AIRCRAFT
Seats28 - 32

Cabin (Length x Width x Height)34 x 7.02 x 6.02

Aircraft Range2300 Nautical Miles

Price (Per Hour)$ 4400 - $ 5000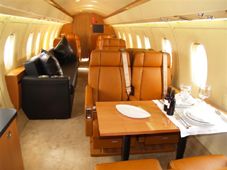 View Aircraft Details
Seats15 - 63

Cabin (Length x Width x Height)79.02 x 11.05 x 7

Aircraft Range7000 Nautical Miles

Price (Per Hour)$ 8500 - $ 15000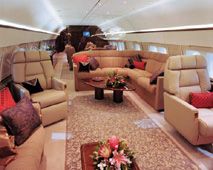 View Aircraft Details
Check out the complete list of private jets at evoJets here.